I Recommend This
25371
Recommended
* Lots of FREE INTERACTIVE stories! Grab it now! *
* Tap on characters to make them speak! *
* Swipe your finger on the text and read the lines! *
* Tap on a word and learn how to pronounce it. *
* Interactive games (Card Designer, Coloring Pages, Spot the difference with each story ) *
Story Time is an interactive story telling app that is bundled with beautifully illustrated story books for children. Each story is bundled with original colourful illustrations, narrations and sound effects!
With Story Time, reading is so much fun. All the stories highlight the text as its read along. Children not only read but also learn how to read and pronounce the words clearly.
Story Time brings the classic story characters to life! Children meet their favourite characters in an all new way!
Story Time gives a mesmerizing experience that children can never forget.
Not only this, Story Time brings you activities like Spot the Difference game, Colouring book and Card designer. These activities help the young mind more curious and inquisitive.
Parents are enjoying superb reading experiences and enlightening their children with various options available only with Story Time.
While there are many free books, Parents can download samples before purchasing new books. Give each story a rating. Lock the app on odd times for over usage. Password protect the app for unwanted purchases.
Let the child submit their own story idea!
– Story Time continuously upgrades itself with new advanced features that make story reading all the more adventurous.
– Story Time..Make your child smarter.
– Many free stories
– Interactive touch elements.
– Original enjoyable music and narration with sound sfx
– Original illustrations
– Interactive animations and touch effects
– Spot the difference game
– Greeting card designer with characters from the stories
– Colouring game with scenes from the stories.
– Parents section to lock the app on odd times.
– Submit your own story ideas!
The app is designed with playful and enjoyable graphics. You can give your iPhone or iPad to your kids and they can themselves read the entire story.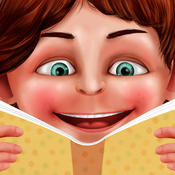 Categories:
Books & Reference
Supported Devices:
IPhone/Ipad
Links: