I Recommend This
0
Recommended
The Photo ALERT app is intended to provide an additional layer of protection for the user, and to act as a deterrent for bullying and aggressive behavior towards the user.
Most safety and security apps use a "panic button" to send a distress message to others. Photo ALERT's panic button is the photo click button. So as a distress signal is sent to up to four predetermined recipients via SMS, the recipient need only click on the link included in the distress message, and see the photo that was taken by the user. The SMS includes a timestamp and GPS location of the sender.
When the user "clicks" the Photo ALERT panic button, additional deterring features are activated. Depending on the features selected on the menu, the phone will immediately go into speaker mode with a loud audible siren. Alternatively, the phone's audio recording feature can be activated. After the first 15 seconds of recording, the voiceprint file is also sent via e-mail to the predetermined recipient list. This graphic and audible file has the potential to be used as evidence against a perpetrator who threatens the user. Additional options include a loud audio message that states that a photo and ALERT message has been sent to a predetermined selection of people, and that an audio recording may also have been sent. These feature can act as a deterrent any time the user is faced with aggressive behavior, or unexpected intrusions. The app is perfect for use in dark parking lots, while jogging, or simply at home alone. It is the developer's opinion from experience that the threat of exposure will often reduce a perpetrator's aggressive behavior. The ALERT can only be stopped by inserting a user selected 4 digit code. Under coercion, entering the code in reverse will appear to cancel the ALERT, but will not advise the recipients.
Additionally, Photo ALERT can be used in an alternative mode, referred to as Social Mode. In this mode, the user simply selects a list of email recipients, and every time a photo is taken in this mode, the photo automatically get e-mailed to the recipients, with no additional action required.
For a simple and inexpensive one-time purchase, you can enjoy heightened security and photo sharing convenience.
Directions:
1.) After launching the app, you will be asked to select 4 contacts. These are the people who will receive any SMS messages you send when app is in Emergency mode. User should ensure eMail address is included in contact list. You will be prompted to select up to 4 contacts for Social mode. Selected contacts can be changed at any time within the app Settings screen.
2) An eMail will be sent to the contacts selected in Emergency mode to advise them they have been selected to help you in the event of an emergency by receiving your ALERTS.
3.) By default, the app is in Emergency mode. Therefore, any photo taken in this mode will send a photo, timestamp, and GPS location to your preselected contacts.
4.) After photo is taken, you may additionally capture a 15-second audio message by pressing the microphone icon. This audio file will be sent to recipients' e-mail address.
5.) A simple, preselected 4-digit code will advise recipients vis SMS that the Emergency is over.
7.) In the Settings area, you can switch from Emergency to Social mode, optionally enable audio alarms, change the list of contacts associated with the app, and a few other tweaks.
8) It is recommended that user include his/her own contact information in preliminary contact list in order to test the apps features and see what the recipients will see.
NOTE: Please do not abuse the sending of SMS text messages in Emergency mode, as the app will first warn you, then automatically stop working if it detects continued abuse.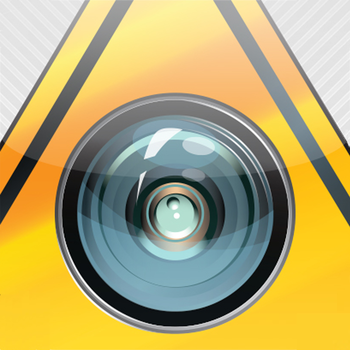 Categories:
Lifestyle
Supported Devices:
IPhone/Ipad
Links: