I Recommend This
19462
Recommended
At CAMS, we are always looking to make your Mutual Fund Information management faster, easier and smarter.
Accessing your Mutual Fund investments on the go from your smart phone is now possible with myCAMS, the Mutual Fund app made just for you, the way you would want it.
myCAMS brings you a host of features that will help you stay updated on your MF investments – latest portfolio valuation, instant view of cost value to market value, transactions of last 3 transacted days and much more. Whether you view it as a summary or in detail at scheme level, myCAMS ensures to bring you updated, accurate data.
That's not all! Requesting a statement or sending a query regarding your investment can now be done from your very own myCAMS.
What's more! myCAMS is secure and does not store any information on your device or SIM card.
Stay connected to your Mutual Fund investments with myCAMS.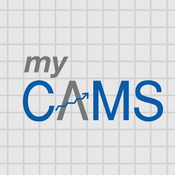 Categories:
Finance
Supported Devices:
Android, IPhone/Ipad