I Recommend This
2
Recommended
*** Have fun popping balloons while hearing the most important sounds of English, French, Spanish, and Italian speaking countries ALL IN ONE GAME.
*** Give your child the ability to learn ANY language throughout their lifetimes with Kadho's products ***
*** Kadho brings you fun and engaging games that are scientifically developed and tested. Make playing… Learning ***
Playing Kadho's games preserves a child's remarkable ability to hear the sounds from all the world's languages. Your child will be exposed to the most important sounds for learning English, Spanish, French and Italian. This is the foundation for a better language learning experience throughout their lives!
STRENGTHEN THE CHILD+PARENT BOND
• Fun for both adults and children–play with your child, or let them play by themselves. Feel good in knowing that your child is using content that is actually beneficial for them.
• As a parent, monitor your child's progress and see what sounds your child has heard and what sounds they still need to hear
BUILD YOUR CHILD'S NEUROFOUNDATION™
LANGUAGE AND MUSICAL ABILITIES: Expose your child to the fundamental sounds of European romance languages: English, French, Spanish, and Italian
WORKING MEMORY: Strengthen your child's memory as they try to remember which balloons to pop.
HAND-EYE COORDINATION: Use your visual and motor planning, plus processing abilities as you try to pop moving balloons.
IMPULSE CONTROL: Build your child's resistance to urges and self control as they must avoid the wrong balloons
MENTAL FLEXIBILITY: Flex your brain's mental switching and creativity as the target balloons change between each game.
KADHO's BLUE LIGHT FILTERING TECHNOLOGY
Kadho games are equipped with Blue-Light Filtering Technology that allows you to filter out the detrimental blue light from electronic devices.
PRESERVE A CHILD'S LANGUAGE LEARNING ABILITIES
Kadho's games and ebooks mimic living in English, French, Spanish, and Italian speaking countries. Our apps expose children to the world's most important sounds identified and selected by scientists, linguists, and child development experts for learning the world's languages. These are the fundamental "foreign sounds" that make up languages. These sounds are presented in a custom manner that exposes a child to these sounds in a natural manner they can learn.
The goals of these games are to develop not only a child's language abilities but their entire Neurofoundation™.
ABOUT US
Founded by two PhDs, and being backed by a strong network of early childhood educators, linguists, neuroscientists and child psychologists, Kadho is utilizing the last 50 years of brain science to develop games and eBook to maintain and enhance the innate language abilities that children are born with.
Over 50 years of science has shown the most critical phases of early childhood education actually begin at birth till age three. This time is a window of opportunity for the proper formation of Neurofoundation™ for the brains core connections needed for basic sensory, social and emotional processing and understanding. Kadho aims to lead the advancement of child development research and improve children's lives everywhere. Kadho's goals are to support, enhance and supplement traditional child raising so that, no matter what a child's economic or social circumstance might be, he can reach his full language potential.
Kadho produces a collection of eBooks and games that foster parent and child interaction through play and exploration
For more info please visit www.kadho.com
KidSAFE
We are KidSAFE certified, do not advertise for third party products or have in app purchases.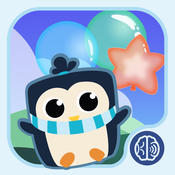 Categories:
Education, Games
Supported Devices:
Android, IPhone/Ipad