I Recommend This
1
Recommended
With MixOnMyRadio, you can create your own radio station, featuring music from your iTunes or Spotify collections and your favorite podcasts. Listen to what you want, and take it wherever you go.
"MixOnMyRadio app was included in our best iPhone apps for mixing music", says AppPicker.com. "…it's the audio player that should come with the iPhone. But it doesn't stop there. Mix On My Radio also allows you to select from a variety of … podcasts and automatically mixes them into your listening program…" – iPhoneAppReview.com
PRODUCE your own radio program based on:
-> Your choice of music from your iTunes library or Spotify,
-> Your choice of over 50 free podcast programs, and
-> Your choice of when to mix podcasts with music.
Preview top songs from iTunes and download them to begin your mix. Or preview iTunes Songs and build your music library utilizing the Juke Box feature.
Don't have music? Then LISTEN to 'Nothing But Podcasts' to create a Talk Radio station.
MIX your music with podcasts from the following categories:
-> News, health, food, science, technology, music, arts, sports, comedy, story telling, and more.
CHOOSE from media sources like the BBC, CNN, FoxNews, NPR, and others.
CREATE and receive song dedications with Facebook® friends:
-> Pick a song from iTunes, record an audio message, and send it to a friend.
-> Within 30 minutes, they will receive the audio message and hear the song.
-> Whether it's romantic or a personal joke, you'll have fun with this feature.
SEE the youtube.com video (search for MixOnMyRadio or go to http://www.youtube.com/watch?v=wFewym7X3-A&spfreload=10).
Features (see www.mixonmyradio.com for a full list of features):
– Unlimited Free access to your choice of over 50 podcast programs.
– 17 radio buttons for programming your favorite playlists, albums, and artists from your music collection.
– Juke Box for creating and editing a playlist on the go.
– Free song dedication creation and reception for Facebook® users.
Requirements:
– Media is streamed using WiFi or Cellular (minimum 3G) while you listen. Additional data download charges may apply depending on your service plan.
When listening to an iTunes music library, MixOnMyRadio must be running in the foreground in order to mix music with podcasts. When you press the HOME button to exit MixOnMyRadio, you will no longer hear your mix of media source podcasts until the next time you re-open the app. Spotify Premium users do not have this limitation.
"One of the best parts of the iPhone is that it can also be your personal music player. While it's obvious you can listen to radio stations on your phone you can also create your own. Here's some of the best apps out there to do just that." – appolicious.com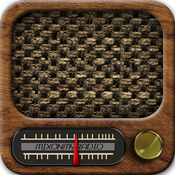 Categories:
News
Supported Devices:
IPhone/Ipad
Links: