I Recommend This
32581
Recommended
This is the official Free TalkEnglish.com app. There are over 900 lessons and 8,000 audio files to help you learn how to speak English fluently. Most lessons contain clickable sentences that you can click to listen to a native English speaker say that sentence. Each lesson page also has a self record tool. You can record your own voice reading that sentence and compare it with the audio file from the native English speaker.
If you want to learn how to speak English fluently, this app will help you achieve your goal.
Features and functionality:
– Click, listen, and repeat functionality
– Record and play back tool
– Interactive conversation practice lessons
– Hundreds of real life scenarios such as movies, sports, shopping, college life, pets, working, and many more.
– Book mark lessons / Manage favorite lessons feature
– Share feature
– Lesson Search
English categories consist of:
– English Basics
– Regular Daily English
– Business English
– Travel English
– Interview English
– Idioms and Phrases
– Listening Lessons
– Pronunciation Lessons
– English Grammar Basics
– Top 2000 English speaking Vocabulary word list
Everything you need to help you learn English speaking is available in one FREE app.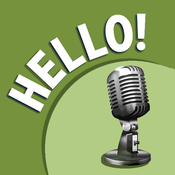 Categories:
Education
Supported Devices:
Android, IPhone/Ipad