I Recommend This
0
Recommended
The next generation number puzzle game is here!
It's easy to play for everyone, however it could also drive genius crazy.
Find the same number in colorful tiles and combine them to grow up.
Just enjoy this beautiful and addictive game!
HOW TO PLAY :
Tap the adjacent tiles with same number, and they will pop up. Tap again, they will merge in the position you tap. Try to get 10, or even higher!
Features:
· Endless challenge
· Easy to play, hard to master
· Simple and colorful design
· Beautiful music and sounds
· Get high score on Game Center
· Universal App for iPhone and iPad
· Share your color with friends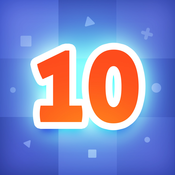 Categories:
Best Game Apps
Supported Devices:
Android, IPhone/Ipad