I Recommend This
33
Recommended
What happens when Emoji's come at you with all their might ? Well, hit them back with the right weapon !
1. Hit the emojiball with same color paddle.
2. Correct hit will gain you a point and incorrect hit will reduce your paddle by half.
3. Score as much as you can before your paddle vanishes.
and yes,
4. You can move your paddle to the other side of the screen to confuse the Emoji's !
Let the Emojiwar begin.
Check where you stand in the world with the leaderboard and share your score over Facebook & Twitter.
You can share the Emojiball game link through Action share !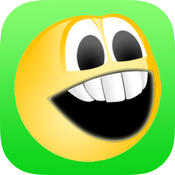 Categories:
Arcade, Games
Supported Devices:
Android, IPhone/Ipad