I Recommend This
3
Recommended
He runs!…He Jumps!…He Shoots his crossbow!…He chomps down snacks and slays invaders! He is one of the greatest true-life heros, William Tell, and he's at your command!!
Are you ready to carry the honor of a nation into battle against William Tell's archenemy Hermann Gessler and his hordes of foot soldiers, the Reeves? The safety of your son depends upon it! That scoundrel Gessler snatched up little Walter while you were getting supplies! DUN DUN DUN!
He picked the wrong respectable mountain farmer to mess with!
CROSSBOW WARRIOR GAME FEATURES:
• NO IN-APP PURCHASE!!! Play the game once and have fun without paying all the time!!
• 34 exciting levels with jump n' run action!
• Super-quick: open app and play!
• 4 different game types!
• Experience the whole story behind the legend of William Tell with a multitude of lovely graphics!
The hopes of your son and an entire nation rest on your shoulders, your steel nerves, and your steady aim! Strap on your crossbow, pump up your biceps, and…CHARGE!
You'll run fearlessly through the picturesque cobblestone streets of the Swiss alps, but these little villages are not so calm as the snow capped peaks around them…
Gessler has unleashed wolves, bears, and of course his army of Reeves. Plus you've got sheep, cows, and barrels in the road and dangerous rivers and canyons to navigate! LOOK OUT! But you are William Tell! The villagers have left you cheese to make you fast, chocolate for energy, flowers to help you to the next village, and arrows to load your crossbow. Shoot the apples off the barrel to get a bonus level.
In the ultimate showdown, can you shoot an apple safely off your son's head, and then leap to safety onto a rock ledge of the Axen cliffs?!!
No problem…you're WILLIAM-FREAKIN'-TELL!
HOW CROSSBOW WARRIOR WORKS:
• Open app for instant gameplay
• Simple controls, thrilling results
• Dash through the villages and wilderness defeating dangers
• Discover each level's hidden feature and unlock a bonus level by finishing in expert time!
• Navigate your ship through dangerous canyons and lakes.
• Prove your skills as a marksman by fighting wild animals, Habsburgs, and the nasty boss Gessler!
Feel free to drop us a line! We're always listening to your suggestions to improve Crossbow Warriors! If you have any issues with the app, just contact us and we will help you!
** Are you loving Crossbow Warrior? We'd love to hear about it! Please take a moment to leave us a nice review. It really helps! **
While you're in the sharing mood, go ahead and throw us a like on Facebook too, THANKS!
We appreciate your support greatly! You inspire us to make more super cool apps like Crossbow Warrior!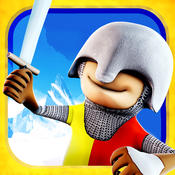 Categories:
Best Game Apps
Supported Devices:
Android, IPhone/Ipad