I Recommend This
0
Recommended
Most parents and teachers understand children learn best while having fun.
Blue Planet Tales, Interactive Children's Story Books, is being used at schools to provide a sneaky way to teach children history, science and nature.
The App offers an educational approach to the past. Various read along stories are offered and include brightly colored and attractive characters children love. Receive the first part of each story for free. Download the rest at a small cost. It is a smart way to give a child the gift of knowledge both in and out of the classroom.
This app includes great stories that blend real life and history. Titles cover topics like the Ancient Pyramids, dinosaur extinction, Blackbeard the Pirate, outer space, and geography from around the world. Every story is interactive and teaches key facts about the past and humanity. It is a wonderful beginning for children before entering a classroom environment where the subjects seem much less fun.
Blue Planet Tales Interactive Children's Story Books – History and Fiction Education Learning Library App is simple to navigate, so children will have no problems "playing" along. With a few steps, it is simple to get through the app without difficulty.
Read along with the vivid displays tagged with words.
At the end, questions exist to test comprehension. The multiple choice format enhances the experience.
Individual scores allow children to review the material and correct mistakes. The interactions within the interface is the smartest tool to aid in the educational process.
Choose from wide variety of interactive stories to teach children important historical and humanities themes:
• Davy Crockett Adventures
•The Secret of the Pyramid
•The Boy Who Wanted to be King
•The Discovery of America
•Dinosaur Extinction
•Laika: A Little Dog's Journey into Space
•The Great Race to Reach the South Pole
•The Tale of Blackbeard the Pirate
•One Bird Family's Migratory Journey Across the World
Education and Enjoyment for your children:
•Questions check understanding of what is seen and read.
•Multiple choice answers boost learning.
•Individualized scores allow you to review stories and improve scores.
•Interactive features reinforce reading for learners of all kinds.
Download now to give your children enjoyment and culture all wrapped into one gift.
Blue Planet Tales:
Web: www.blueplanettales.com
Facebook : www.facebook.com/blueplanettales
Questions and Comments: [email protected]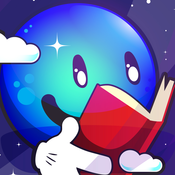 Categories:
Education
Supported Devices:
Android, IPhone/Ipad